This Blog was brought to you by the Carabin Shaw Law Firm, Principal Office in San Antonio
Personal Injury Law – Rear End Collisions
A rear-end collision takes place when one vehicle hits the back of another vehicle. This typically occurs when a driver is following too closely behind another vehicle. When the vehicle in front puts on their brakes, it may be too soon for the vehicle traveling behind to stop without a collision. Rear-end accidents are also commonly caused by distracted driving. When drivers take their eyes off of the wheel, even for a moment, their risk of being involved in a rear-end collision significantly rises. By taking your eyes off of the road, you are not able to notice change in traffic patterns. More about Car Accident Attorneys San Antonio here
One reason why a driver would suddenly slam on their brakes is to avoid a collision from the front. Sometimes, cars will switch lanes unexpectedly or there will be something in the road that was not previously seen. The technical term for this is sudden deceleration. In order to visualize the impact that being involved in a rear-end accident would case, hitting a vehicle of approximately the same size is like hitting a brick wall at half of the speed you are currently traveling. The rule of thumb is to stay at a length behind a vehicle where you can at least see their entire bumper. For traveling on the highway, cars should leave even more room in between.
The most common injury that results from this type of collision is whiplash. Victims can sustain this type of injury even going as slow at 15mph. This occurs when the neck muscles are extended beyond their normal range of motion. The pain may not be felt until a full day after the accident. Those who are traveling in the back of vans are also at an increased risk for serious injury or death, because there is not as much room between their seats and the place of impact. Rear-end accidents are common for truck accidents, because trucks do not have the ability to stop as quickly as passenger vehicles.
Most often, those who get hit from behind are the victims while the car from behind is the liable party. In some scenarios though, you may be held partially responsible for a rear-end collision even if you were the one traveling in front. Insurance companies will always hold the vehicle traveling in behind liable because they were not traveling at a great enough distance behind the vehicle in front of them. There is one exception to this rule, however, and that is if the vehicle in front was in reverse gear. This can happen in parking lots when cars are reversing out of a spot and impact a vehicle traveling down the lane of the parking spaces.
If you were injured in a rear-end collision, then you will need to file a car insurance claim. One of the complications that can arise in these situations is that the other driver of the vehicle was not properly insured. Our firm can help with uninsured motorist claims as well as underinsured motorist claims. Basically, we exist to see that you get the compensation you deserve. You may have even been deemed partially liable, and we can possibly help you contest this in order to maximize your recovery. For more details about your car crash, contact the office today.
Please note, the Carabin Shaw Law Office has moved to 875 E Ashby # 1100 San Antonio, Texas 78212

This Blog was brought to you by the Carabin Shaw Law Firm, Principal Office in San Antonio
Personal Injury Law – Truck Accident Injuries
Injured 18-wheeler accident victims, as the plaintiff in any legal case, must determine whether the negligent truck driver caused the wreck, if a mechanical malfunction might be responsible, or if someone else like that outsourced road maintenance provider played an important part. Many different contributing factors can abruptly lead an 18-wheeler to enter your life. The company that owned the cargo may have failed to load it properly or didn't properly secure the cargo. This made it shift or break free during transport and toppled the trailer's contents onto your vehicle. Or the transport company's route planner was negligent in sending the truck into an area not zoned for hazardous cargo if the truck that hit you was carrying a hazardous load. It didn't belong where you were at the time. Or many other negligent acts may have caused this wreck. Rare is the time when we see an open-and-shut 18-wheeler injury accident case. This is why it is in your best interests to harness the expertise of a prominent rig trucking wreck lawyer who will make sure that all the liable parties for your injuries from that truck accident are held responsible for your injuries, pain, and suffering lost wages as well as the damage to (or replacement of) your vehicle and its contents.
A legal concept in Texas law called "respondent superior" states that employers of those found liable for the wreck are ultimately responsible for the actions or inaction of their employees. So when you have been hurt in an 18-wheeler wreck, determining everyone responsible for the accident is the first thing that must be done. Finding those responsible leads to identifying legally liable parties for your injuries and property damage. In many 18-wheeler accidents, multiple parties may be liable for damages, and there can be more than one defendant, especially when our investigators uncover instances of respondent superior where an employee made a mistake that contributed to your serious18 wheeler accident injuries.
To win your claim among several likely defendants, you need an experienced 18-wheeler accident lawyer on your side who also can investigate the scene of an accident and determine who is (and isn't) liable. Hence, you know the proper defendants to sue. This investigation is over and above the regular local or state law enforcement investigations. Though those investigations often reveal the primary responsible parties, they often stop short of the type of examination by experienced truck accident lawyers and their investigators. These "drill-down" investigations reveal every liable party and the degree of responsibility each party played in the accident. Occasionally, our investigations bring other case facts to light that law officials miss. We pass them along for further action if they feel it is warranted. We then go a step further by investigating every liable defendant's assets. It's not very fruitful to sue someone who can't afford to pay your damages or doesn't have the insurance to compensate you for them. We know what every defendant is worth and learn that quickly.
Motorcycle Accidents
413 people died in motorcycle accidents in Texas during 2019 – and the numbers continue to climb year after year. Motorcycle accidents are extremely dangerous. Bikers have a higher risk for accidents per mile driven than any other driver, and their injuries are more severe than those sustained in a typical car accident.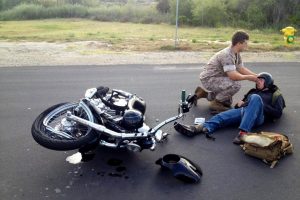 Our Law Firm has the experience you need if you or a loved one has suffered serious injuries or death from a bike wreck in Texas. When a traumatic injury occurs, it's important that you contact a motorcycle accident attorney who understands Texas law to provide you with the best representation. More information
Unlike many states which require motorcycle helmets for all motorcycle riders, Texas allows riders to operate without a helmet under certain circumstances:
If the motorcyclist is over 21 years of age and has successfully completed a motorcycle training and safety course, per Chapter 662 of the Texas Transportation Code.
If the motorcycle rider is covered by a health insurance plan providing at least $10,000 minimum in medical benefits for injuries incurred as a result of an accident while operating a motorcycle.
Although studies have shown that wearing a helmet lowers a motorcyclist's risk of fatal injury by 29% and reduces the risk of traumatic brain injury by 67 %, many bike riders choose not to wear them. Because bike riders are more likely to suffer a fatal or severe injury, the long-term effects of a motorcycle accident can wreak personal and financial havoc on the victim and their families for years to come.
An experienced Texas motorcycle accident attorney cannot undo the damage and injuries caused by a crash, but the accident lawyers at our Law Firm can help you to obtain the compensation that you deserve and may be vital to your future.
If you are involved in a motorcycle collision, there are several steps you can take immediately. Obtaining medical attention is always the first priority, but if you are able, keeping the following details in mind will help your legal case.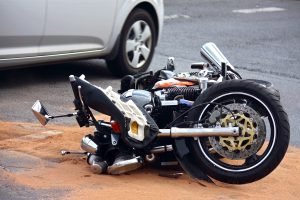 Remain at the scene of the motorcycle accident.
Call the police immediately or have someone call the police for you.
File a police report as soon as the officers arrive.
Seek immediate medical attention, even if you don't think you are injured. Not all injuries are apparent right away.
Get the license number, personal and insurance details, and name of the other driver involved.
If anyone witnessed your motorcycle collision, obtain their contact information. A witness may have noticed key details that you did not. More here
Contact a Texas motorcycle accident lawyer as soon as possible.
If you or a loved one have been seriously injured or killed in a motorcycle crash, please contact the Texas motorcycle accident attorneys at our Law Firm today.